Regular price
₹ 399.00
Sale price
₹ 399.00
Unit price
per
Regular price
₹ 399.00
Sale price
₹ 399.00
Unit price
per
(MRP inc. of all taxes)
Oudh Green Tea Body Mist touches your soul with its warm, musky refreshing notes.
Recommended Use: Every day, post-bath.
This Body Mist contains :
Hand-picked ingredients
Soothing soulful aroma
Naturally derived grain alcohol
Fresh, crisp intoxicating scent
Benefits:
AYURVEDIC BODY MIST: Adieu to nasty odors with the refreshing T.A.C Oudh Green Tea Body Mist. Use it as a post-shower regimen on damp skin to get an alluring aroma that lasts long for up to four hours.
SOOTHING BODY MIST: Antioxidant-rich Aloe Vera in body mist soothes skin, keeps it hydrated, nourished, and refreshed while calming your senses.
REDUCES DARK PATCHES: The cooling and refreshing Green Tea Extract in body mist helps restore natural skin color keeping them smooth and even-textured.
SENSUOUS FRAGRANCE: This body mist comes with an Ayurvedic Oudh and Green Tea formulation. The hand-picked ingredients, when blended, deliver a warm and musky aroma.
PARABEN-FREE: This is made with AYUSH-approved ayurvedic formulations. It is free from all harmful chemicals like parabens, minerals, etc. It is effective and completely safe for all skin types.
CHOOSE AYURVEDA, CHOOSE T.A.C - Ayurveda is Safe, Effective, Long Lasting, Holistic, and, Kind to the World You. T.A.C products are proudly Made in India (Swadeshi) and carry the rich Ayurvedic heritage of India.
Additional Information

Manufacturer: Stella Indusstries
Address: Old Khandsa Rd, HSIIDC, Kherki Daula, Sector 37, Gurugram, Haryana, 122001
Licence No.: 871-ISM(HR)
Share
View full details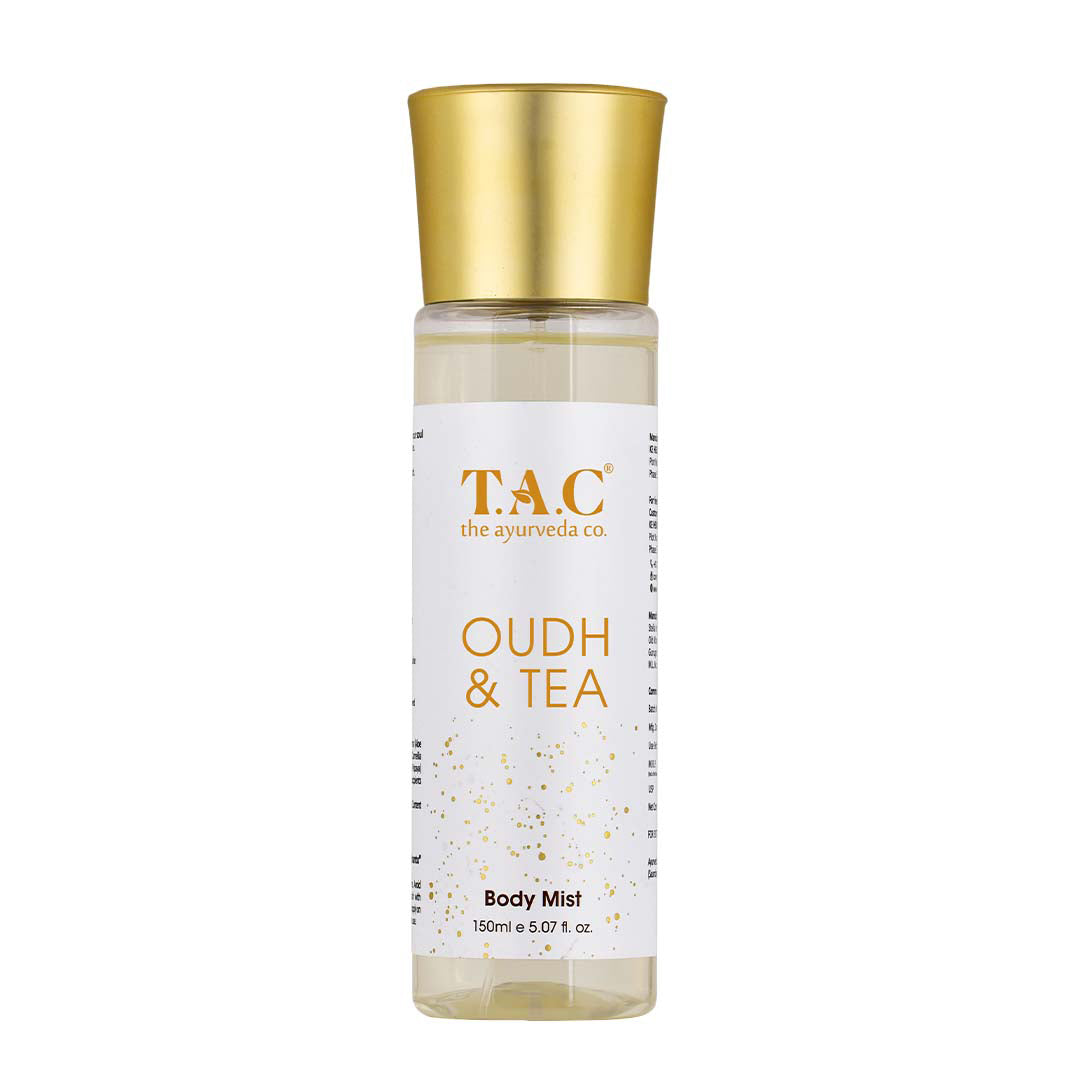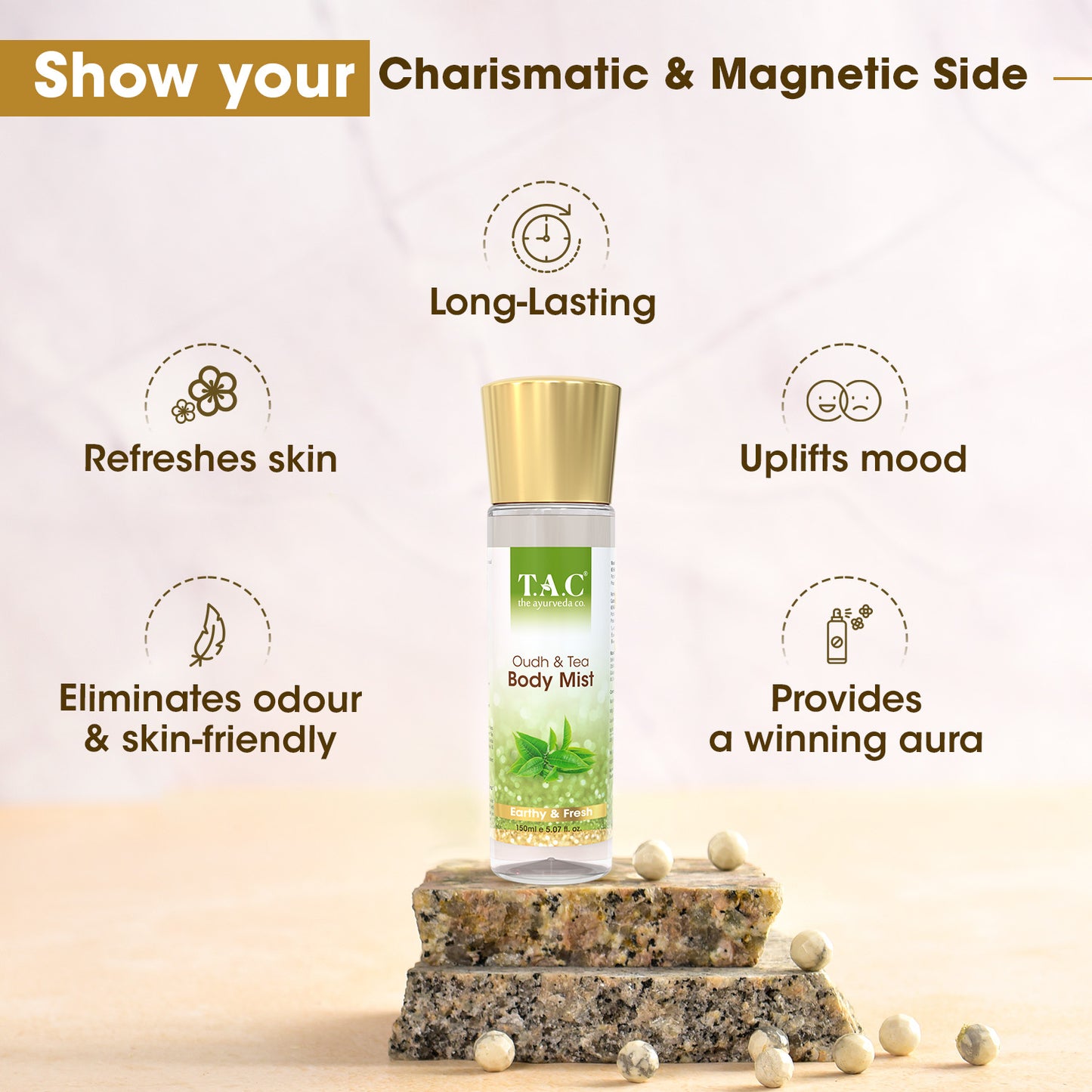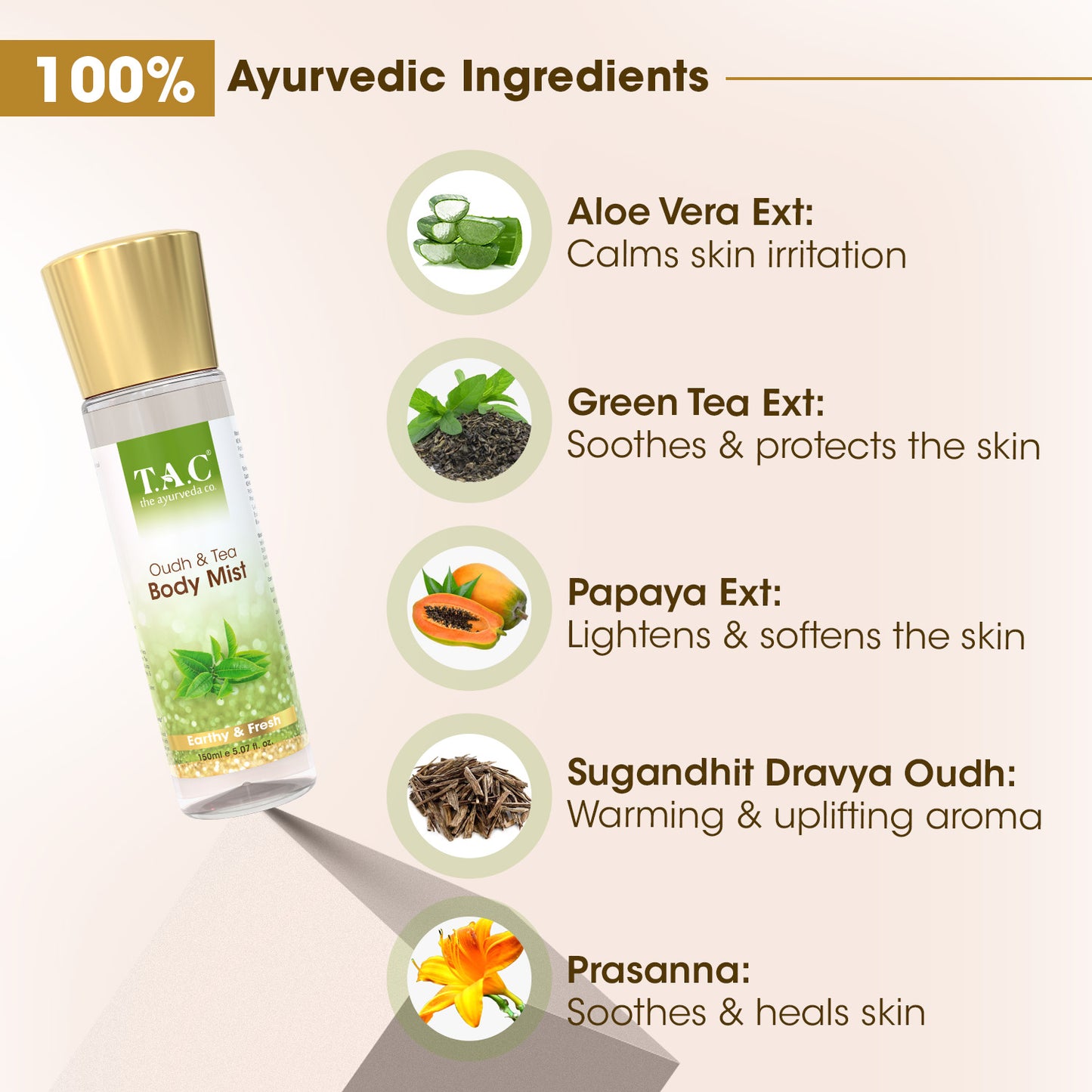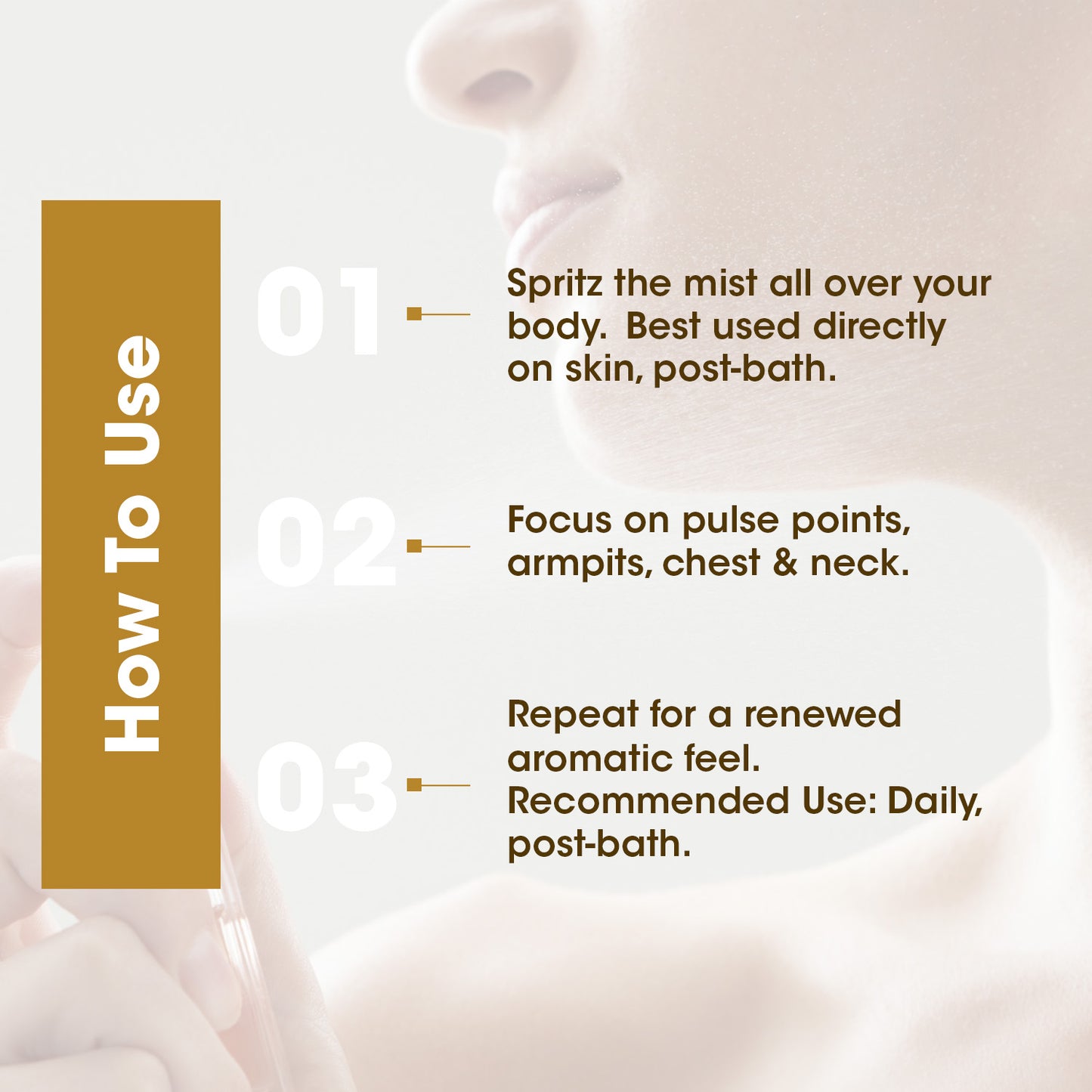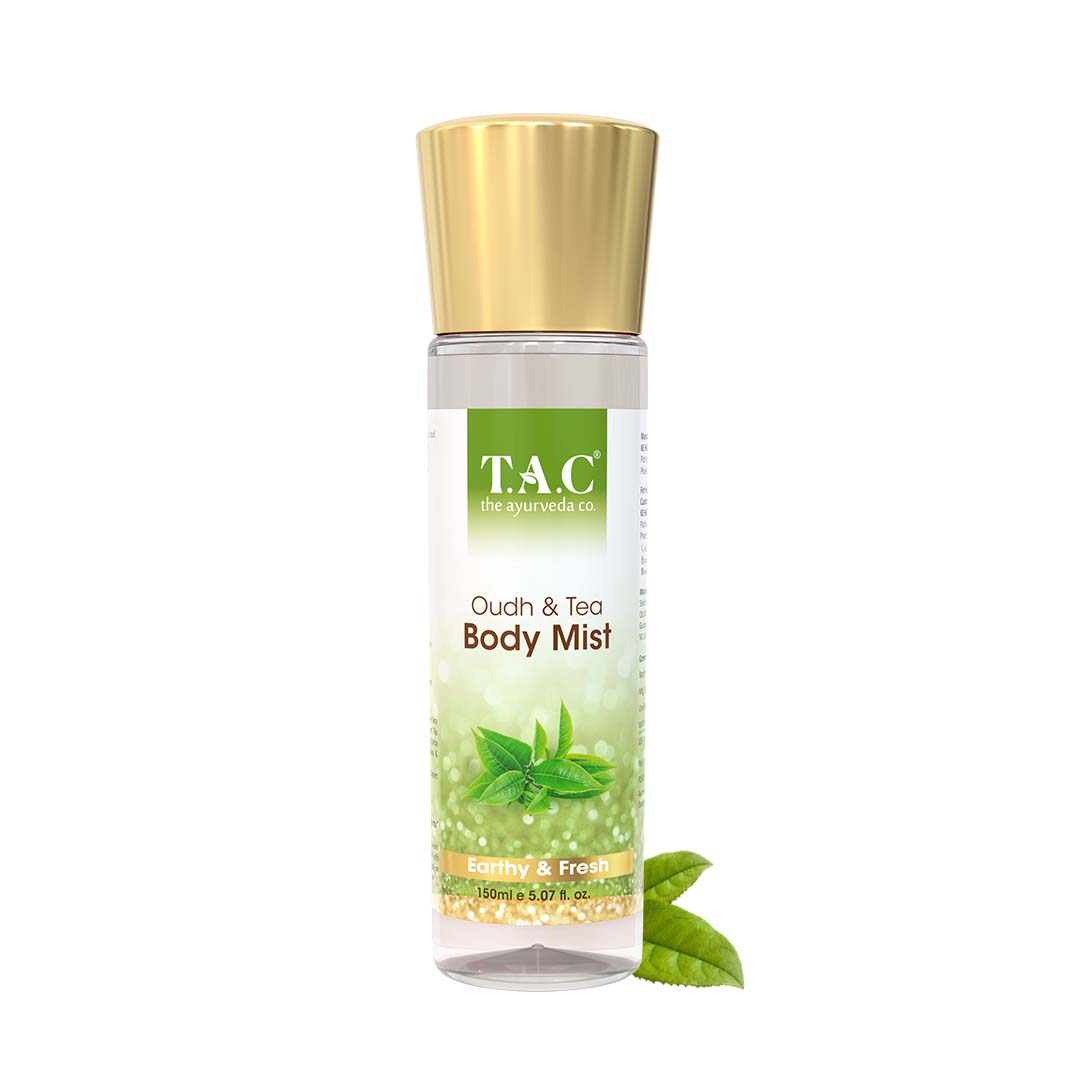 90
Excellent product. Packaging can be improved
Nice Fragrance
Positive Points
1. Nice Fragrance
2. Good Price
Point of Improvements
1. Better Spray Mechanism
2. Long Lasting Fragrance
I absolutely adore this product. I have bought 2 bottles already. If you don't want as intense fragrance as perfume but you don't want to use a body press either this the exactly right product for you.
The fragrance is quite amazing . I personally love it and now it's my signature scent
It's only slightly costlier than a body spray but it smells way better than a spray & it will definitely stay for longer. Since it's a lot cheaper than a perfume but almost smells as nice as perfume I would recommend this to everyone.