Eladi Sunscreen SPF 50

, 50g
Invisible Sunscreen SPF 50 with Neem for Protection from UVA UVB Ray
₹ 499.00
MRP(Incl. of taxes)
Short Description
Introducing T.A.C Eladi Sunscreen, a top-of-the-line product that provides superior protection against harmful UVA and UVB rays. Our broad-spectrum Sun Protection Factor 50 sunscreen for face is specially formulated with 100% natural Zinc Oxide and is completely free from harsh chemicals.
Here are the salient features of our product that make it stand out:
Broad-spectrum SPF 50 with PA+++: Applying sunscreen protects your skin from sun damage, dullness, tanning, and skin irritations with our powerful sunscreen for sensitive skin that blocks both UVA and UVB rays.
Brightens dull and pigmented skin: Our sunscreen for dry skin contains Ayurveda's finest ingredients that heal the skin from sun damage, lighten tan and pigmentation, and give you clear, bright, and glowing skin.
Lightweight sunscreen for oily skin: Our non-greasy formula spreads smoothly and gets absorbed into the skin without leaving any white cast or residue. It keeps your skin moisturized, tan-free, and healthy.
Goodness of Eladi: Our sunscreen is blended with other skin healing and glow-boosting herbs like neem and raspberry to restore skin moisture, keep skin oil-free, block harmful UVA + UVB rays, and illuminate skin radiance.
Harmful chemical-free: Our sunscreen for men and women is made with all-natural, plant-derived ingredients and is free from toxic chemicals, minerals, artificial colors, and fragrances. It is also ISO and GMP certified.
Water-resistant: Our organic sunscreen is water-resistant, making it ideal for use during outdoor activities like swimming, sports, and more.
Non-comedogenic sunscreen: Our formula is non-comedogenic, which means it won't clog your pores and is safe for use on all skin types.
Satin-finish: Use of sunscreen for acne prone skin spreads smoothly to yield a satin-finish that looks and feels great on your skin.
Choose Ayurveda, Choose T.A.C. Our products are proudly Made in India (Swadeshi) and carry the rich Ayurvedic heritage of India. Experience the power of natural ingredients and enjoy safe, effective, long-lasting, holistic, and kind-to-the-world skincare with T.A.C Eladi Sunscreen.
Additional Info
Manufacturer Details
Conor Cosmo India Ltd.
Ambala Chandigarh Highway, Baldev Nagar, Ambala City, HR, 134007, India
Manufacturer License No.
290-COS-(H)
Marketed By
KE Healthcare Private Limited
Plot No. 682, Udyog Vihar, Phase 5, Gurugram, Haryana, 122016, India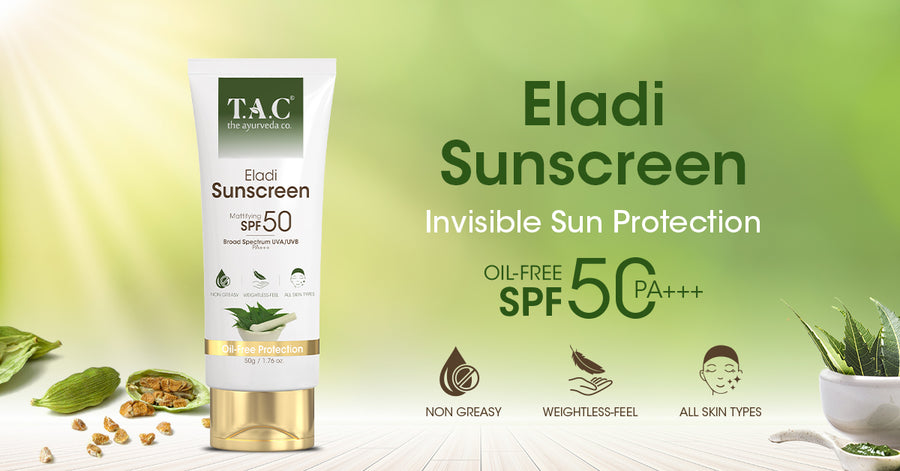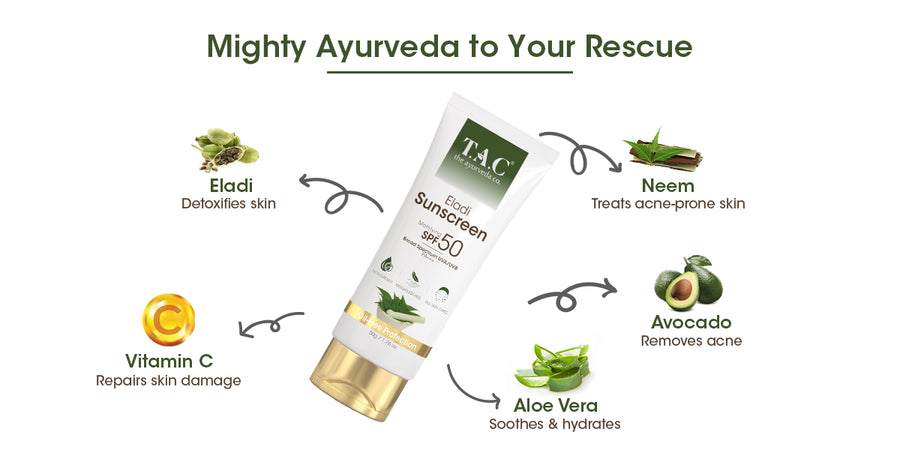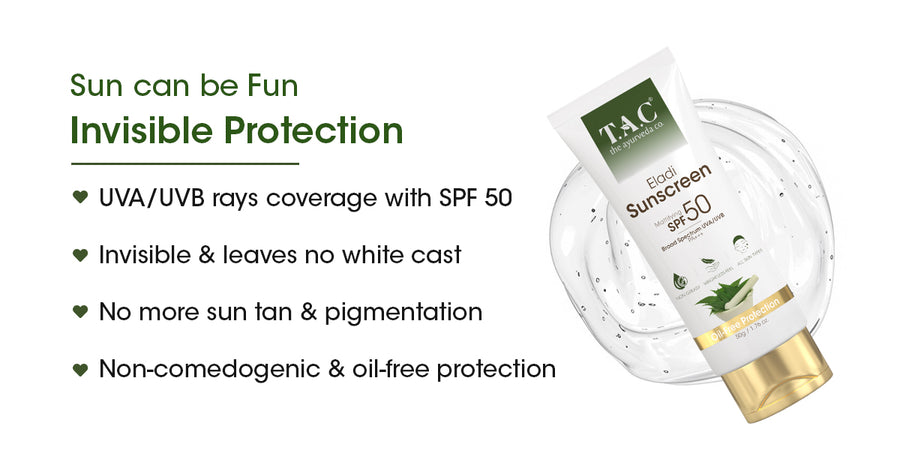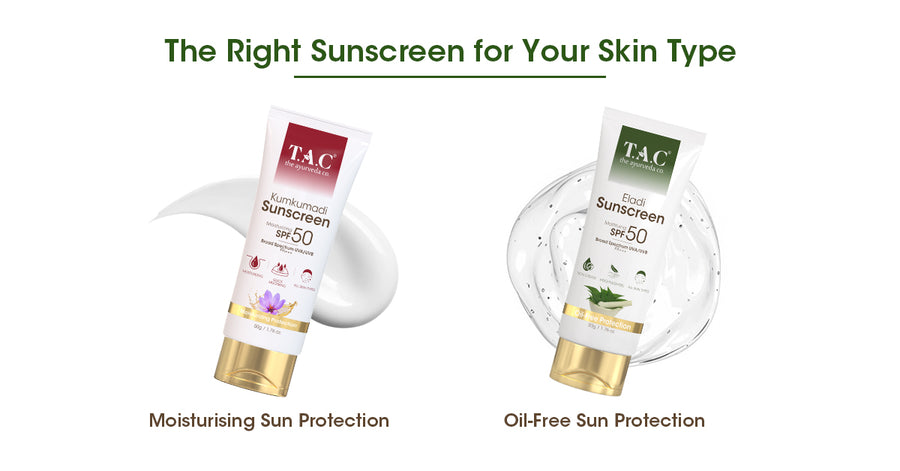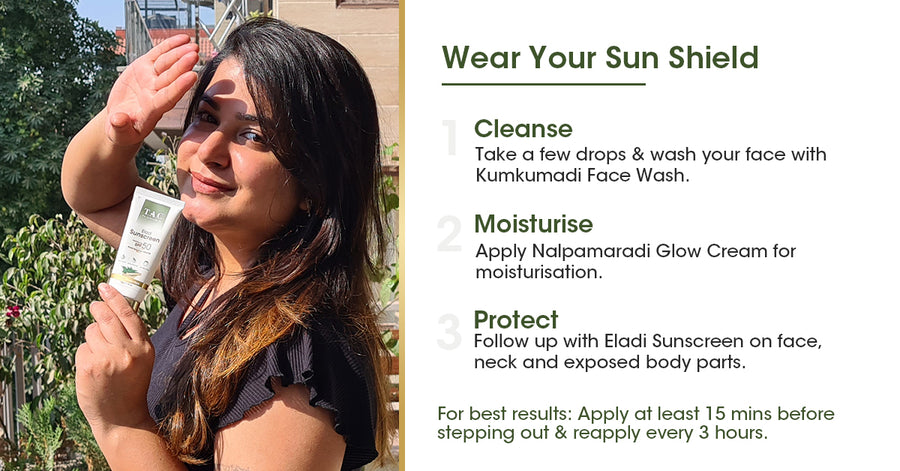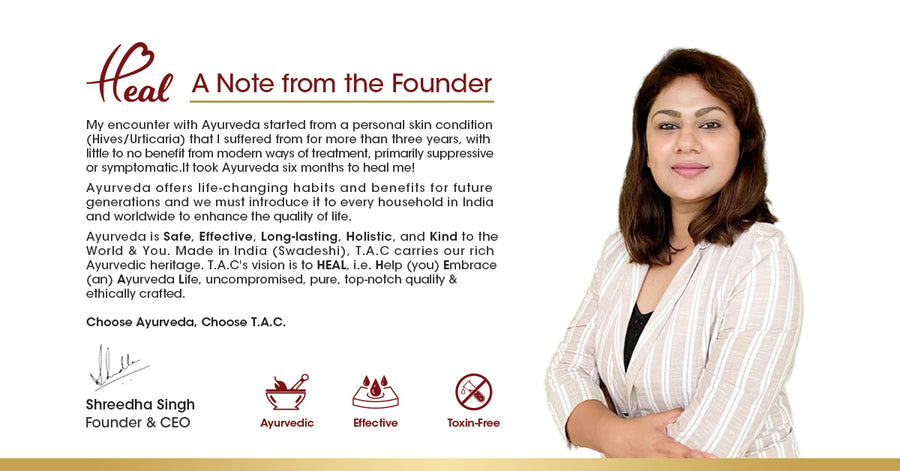 क्रीम लगाने के बाद कोई सफेद दाग नही होता और यह अच्छे से त्वचा में मिल जाती हैं पर यह १००% प्रभावी नहीं है २ से ३ घंटे बाद इसका असर नहीं रहता। बाकी ओवरऑल अच्छी है
TAC eladi sunscreen .i am lovin it.
Very good sunscreen ,no greasynesd,no chip chip,satin finish ,very smooth very soothing & calm smell .it's good for all skin type .my skin is combination its goes so well.i an using is as a make up primer also .I am lovin it .
5
One of the best product I found it to b I am using spf 50 sunscreen superb gel base non sticky .vitamin c body srub face wash under eye roll and under eye cream al giving result infact I got complimentvfor my screen I purchase from vashi mall...
Thanks tac company
Good product
Its a very good products, non greasy & oily, got an additional discount using GrabOn coupons