Kumkumadi Sunscreen with SPF 50

, 50g
Sunscreen SPF 50 For UVA, UVB Sun Protection and Moisturizing
₹ 399.00
MRP(Incl. of taxes)
Short Description
Introducing T.A.C Kumkumadi Sunscreen, one of the best sunscreens for face! A lightweight, nourishing, and broad-spectrum SPF50 with PA+++, this sunscreen for face offers complete protection against harmful UVA and UVB rays. Infused with 100% pure Kumkumadi extract, this non-irritant sunscreen is a powerful Ayurvedic formulation that works wonders on all skin types, be it dry or oily
Benefits of using this amazing sunscreen:
Broad Spectrum SPF 50 with PA+++: Our natural Sunscreen provides maximum protection against UVA and UVB rays, which reduces dullness and imparts a radiant complexion to the skin.
Reduces Tanning and Pigmentation: Our glow-boosting sunscreen guards the skin against harmful UV rays, lightens tanning and dark spots, and imparts an even-toned skin.
Lightweight and Non-Greasy: Our Kumkumadi Sunscreen for oily skin is non-greasy and light, so it quickly gets absorbed into the skin without unclogging pores. The sunscreen lotion keeps your skin moisturized and leaves no white cast.
Powerful Ayurvedic Formulation: Our sunscreen contains healing herbs such as Kumkumadi (Saffron) that mildly works on the deeper layers of your skin to reduce tanning. Bala helps improve skin texture while Rose helps in skin rejuvenation and provides nourishment.
Paraben and Sulfate-Free: Our natural sunscreen for men and women contains no harmful chemicals, artificial colorants, or fragrances. The product is ISO and GMP-certified. Also, it is neither tested on animals nor contains any animal extracts.
Made in India: Proudly Ayurvedic: Choose Ayurveda, choose T.A.C. Ayurveda is Safe, Effective, Long Lasting, Holistic, and Kind to the World You. T.A.C products are proudly Made in India (Swadeshi) and carry the rich Ayurvedic heritage of India.
Use T.A.C Kumkumadi Sunscreen and protect your skin from harmful UV rays while keeping it moisturized and nourished. Shop now and embrace the goodness of Ayurveda.
Additional Info
Manufacturer Details
Conor Cosmo India Ltd.
Ambala Chandigarh Highway, Baldev Nagar, Ambala City, HR, 134007, India
Manufacturer License No.
290-COS-(H)
Marketed By
KE Healthcare Private Limited
Plot No. 682, Udyog Vihar, Phase 5, Gurugram, Haryana, 122016, India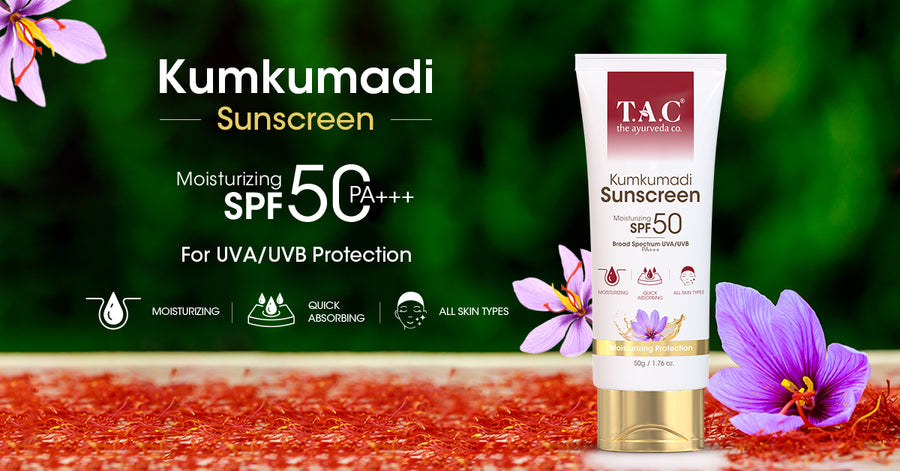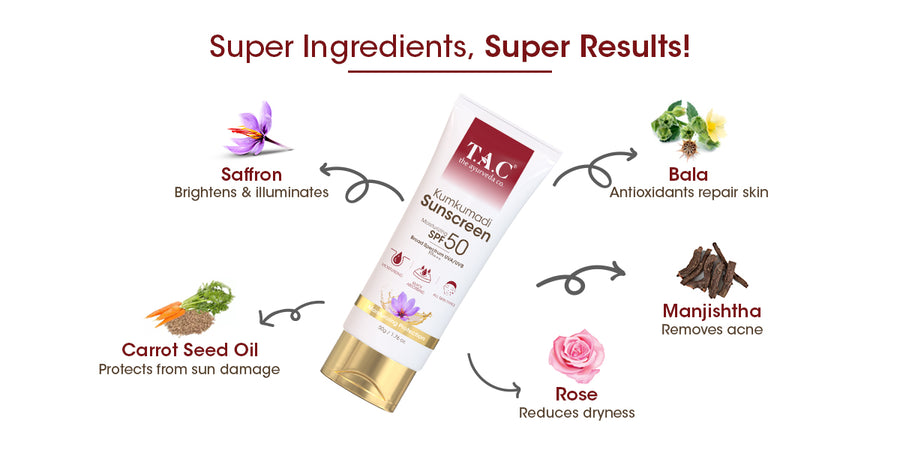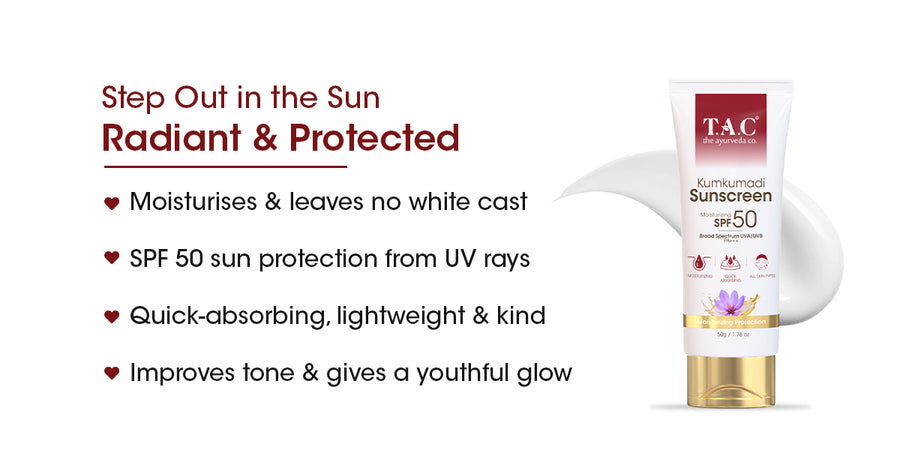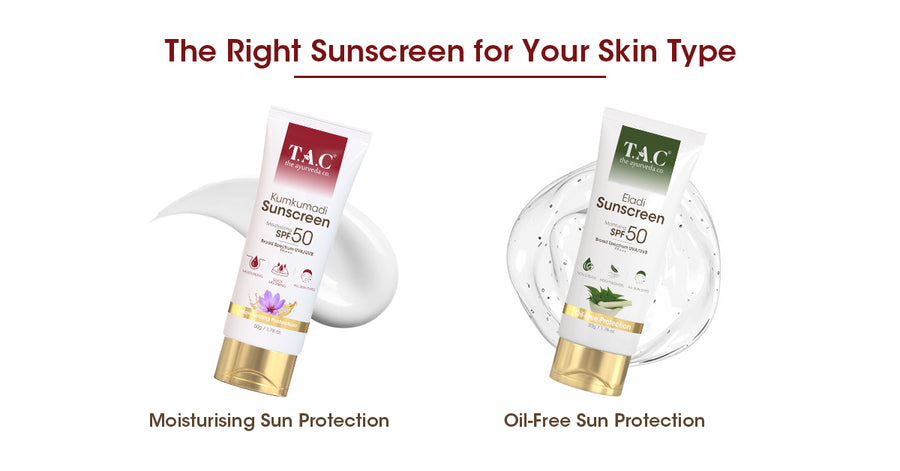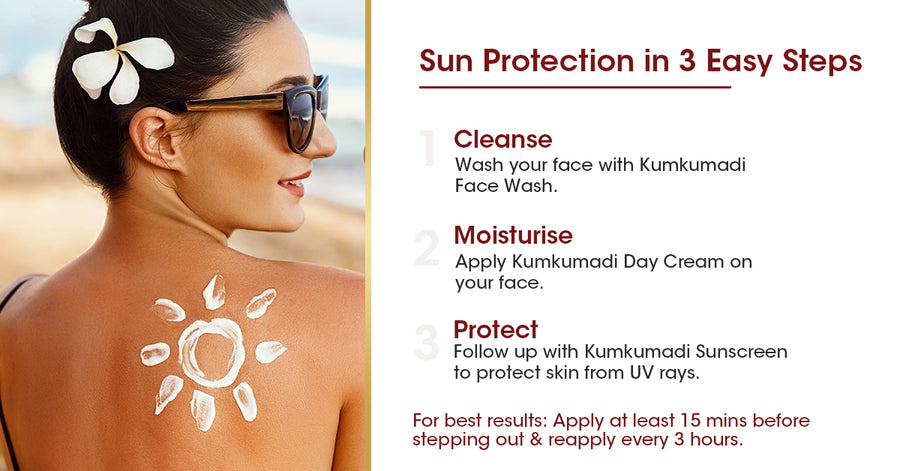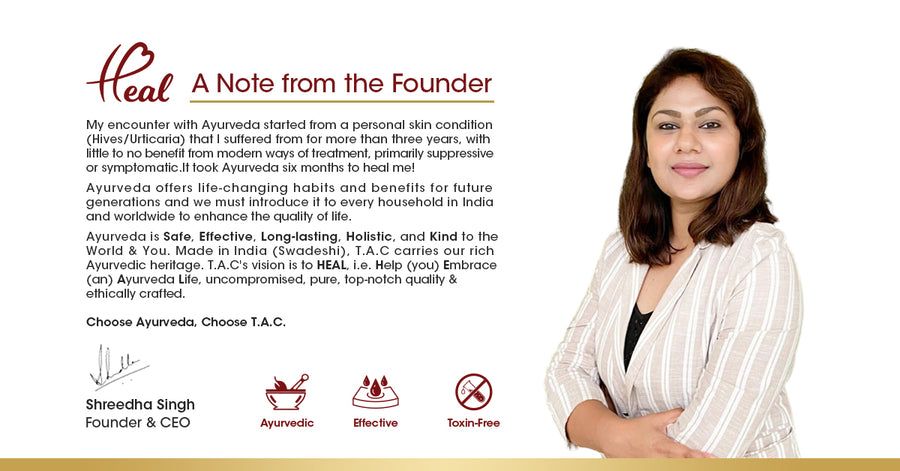 wow !
This is of my kind.
this sunscreen is really awesome. It easily get absorbed into my skin and protection my skin from harmful UV rays and pollution .
great 👍
very smooth texture! smoothly blends good for all skin types and very hydrating.
Very effective sun screen
This sunscreen is a lightweight, non-greasy SPF 50 lotion that protects against UV rays pretty well and also reduces tanning and pigmentation, and leaves skin radiant. My personal recommendation.
Not moisturising sunscreen
Made my skin more and more dry upon use
Not all moisturising skin
Don't found worth buying it
A bit sticky lovely perfume I hv just bought it wil be able to tell if it really works or not in a month or so