Kumkumadi Face Wash

, 100ml
with Kumkumadi and 24k Gold
₹ 299.00
MRP(Incl. of taxes)
Short Description
Get a golden glow with TAC Kumkumadi Face Wash infused with real 24K Gold Dust. It cleanses the skin to remove dust, excess oil impurities. Kumkumadi's Ayurvedic miracle composition makes the skin visibly toned, imparting a supple rejuvenated texture.
Recommended Use: Twice, daily
Regular Use Gives:
Golden glow
Healthy smooth skin
Toned youthful texture
Benefits:
CLEAR AND RADIANT SKIN: Cleanse your face with the magic of Kumkumadi. This face wash for women and men cleanses the skin of grime and dirt for a clear, radiant, supple glow from within.
VISIBLY CLEAR SKIN: The concoction of Kumkumadi and Manjistha washes away dirt and impurities, keeping the skin clear and bright. It keeps skin troubles at bay and gives your skin a soft and supple look.
MAINTAINS MOISTURE LEVEL: The Kumkumadi Face Wash for dry skin retains moisture without stripping away the skin's natural oils. It further helps in controlling acne breakouts and blemishes.
THE POWER OF KUMKUMADI: The key ingredient of this face wash, Kumkumadi or Saffron, is a healing, glow-boosting herb that mildly works on the deeper layers of your skin to improve its texture, provide nourishment, and delays signs of aging for a youthful and radiant complexion.
PARABEN AND SULPHATE-FREE: Made from 100% natural ayurvedic ingredients, the toxin-free Kumkumadi Face Wash for acne and pimples is safe to use and doesn't irritate the skin.
CHOOSE AYURVEDA, CHOOSE T.A.C - Ayurveda is Safe, Effective, Long Lasting, Holistic, and Kind to the World You. T.A.C products are proudly Made in India (Swadeshi) and carry the rich Ayurvedic heritage of India.
Additional Info
Manufacturer Details
Conor Cosmo India Ltd.
Ambala Chandigarh Highway, Baldev Nagar, Ambala City, HR, 134007, India
Manufacturer License No.
290-COS-(H)
Marketed By
KE Healthcare Private Limited
Plot No. 682, Udyog Vihar, Phase 5, Gurugram, Haryana, 122016, India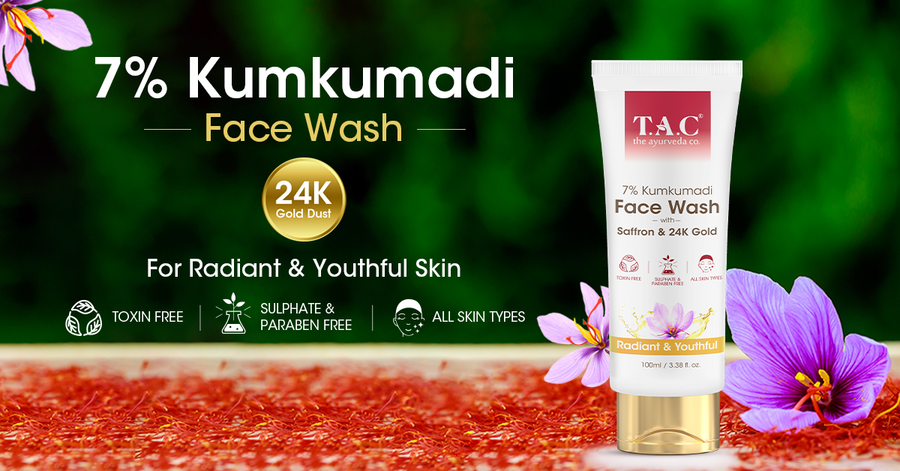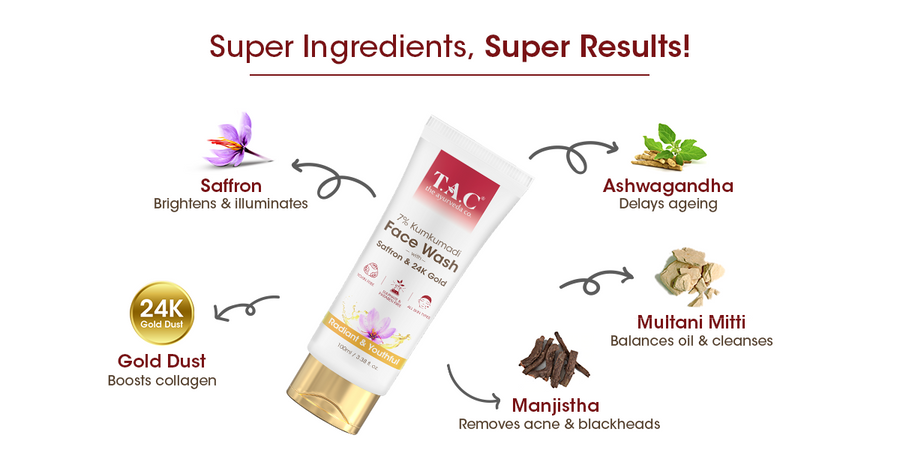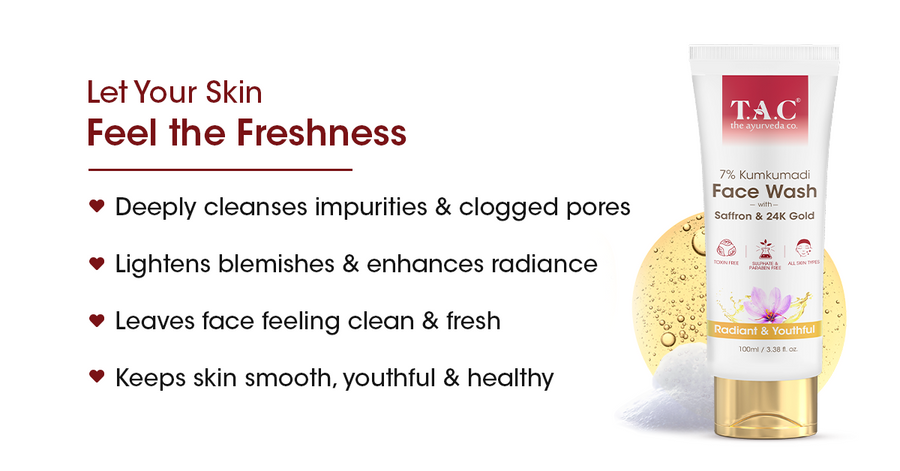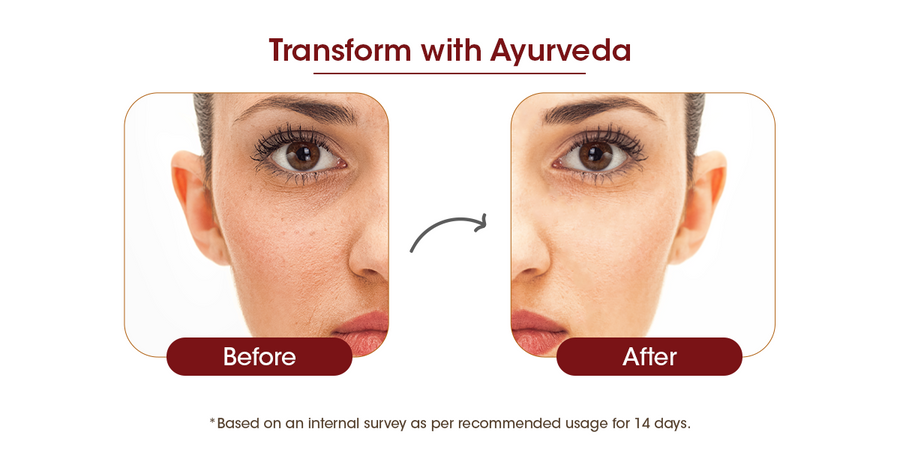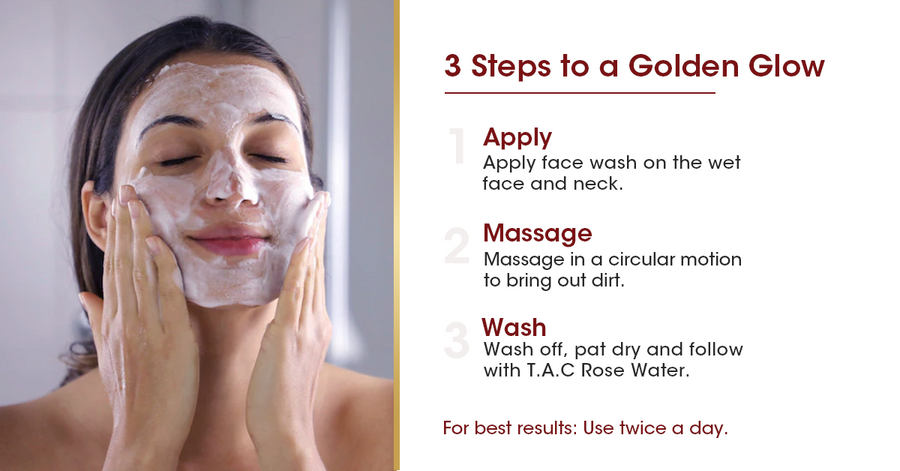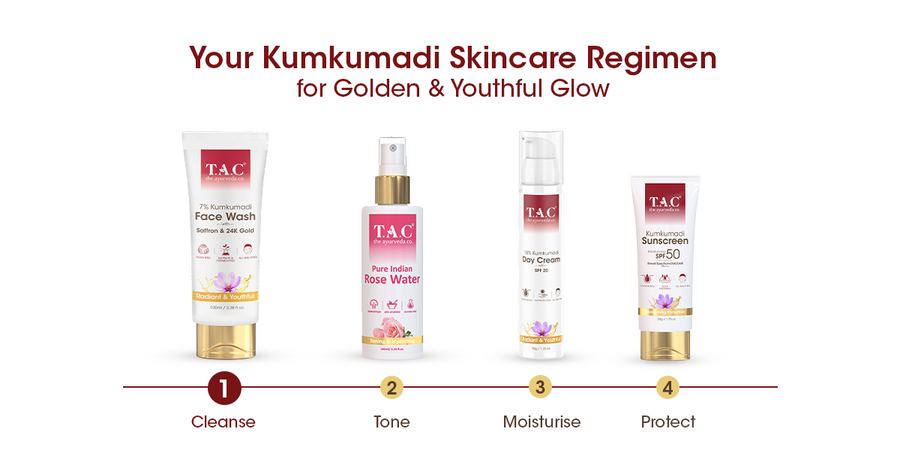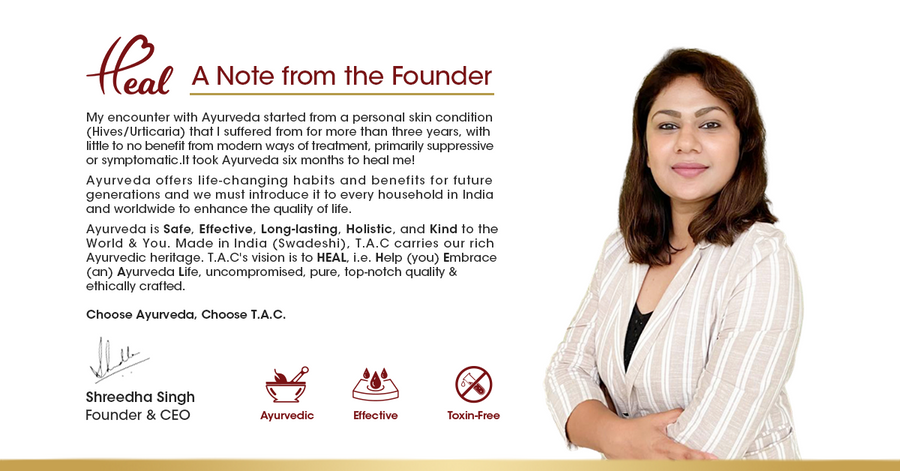 I received wrong product
No value of money in 199 I got only 50ml face wash this is cheating when it is showing 100 ml i received only 50ml when i complaint on WhatsApp they are not replying what is this i used to love ur product i buy it regularly now i delivered wrong product slove my issue
Awesome !
The product that comes with the ingredients that your skin actually needs and keeps your skin soft and clear. Thanks to The Ayurveda Co.
Very good
Very good cleansing action, removes oil, and gives fresh effect.its ingredients are awesome and not harmful for skin it's paraben free too
Average product with great fragrance
Facewash is gel type so donot produce much foam on face and hence donot feel refreshed but have a strong smell of sandal